The Higher Brothers are a Chinese hip-hop group from Chengdu consisting of members MaSiWei , DZknow ,Psy.P and Melo.

Last month, the Chinese rap group released their 14-track Five Stars project, with assists from Ski Mask the Slump God, Denzel Curry, Soulja Boy, Schoolboy Q, and J.I.D, as well as fellow 88 Rising affiliates Rich Brian, NIKI, and KOHH.
Recently, they have released their new music video:
Higher Brothers – Top ft. Soulja Boy
We caught up with Higher Brothers to find out on how they began their music career and what are their future plans for the upcoming journey.
#1 Introduce yourselves and where are you based from?
We are Higher Brothers, Masiwei, DZKnow, Melo, and Psy.P. We live in Chengdu, China.
#2 Tell us more about how did you'll meet and form Higher Brothers?
We first met online and were part of a bigger collective called Chengdu Rap House. We were living in the studio together in Chengdu so we naturally recorded songs together too. Our first song was called "Higher Brothers."
#3 How would you'll describe your music style?
We make hip hop with a diverse sound.
#4 Recently you'll have released your 2nd album called "Five Stars". Tell us more about the story behind it and the inspiration of the Album?
Five Stars has a lot of different meanings to us. It refers to the Chinese flag, it also means the best, the most expensive, the top. You also see five Stars in GTA. We love GTA
#5 Musically, who are the biggest influences and inspiration for the higher brothers?
Big L, Kendrick Lamar, Eminem
#6 In what ways has your newest music changed from when you'll first started?
Our new music is more professional, and now we are experimenting with new sounds just going off our feelings and what we like.
#7 What are your future plans for the upcoming year?
World tour! We are going to Europe for the first time. We are also working on solo stuff and other big projects.
#8 What message would you like?
Keep working, don't give up.
They are set to began their world tour on March 23 in the group's hometown of Chengdu, and will conclude Sept. 14 in Amsterdam. Check out the full Asia, Europe, and North America tour schedule below. Pre-sale tickets for the shows will be available at 10 a.m. on Thursday, Feb. 28.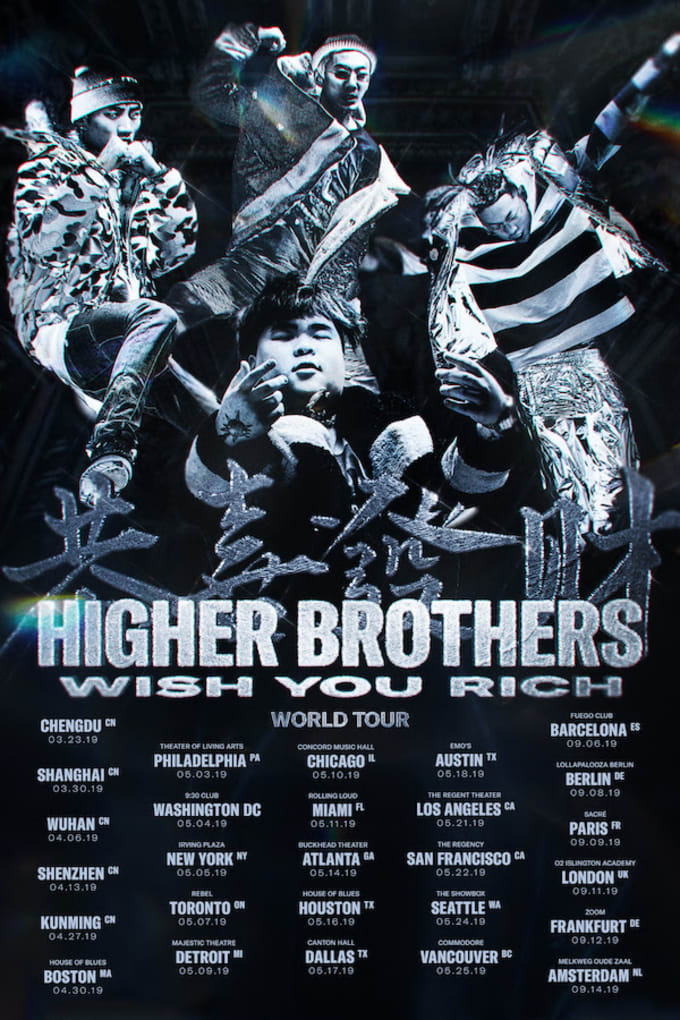 You can stream Five Stars now on all major streaming platforms.