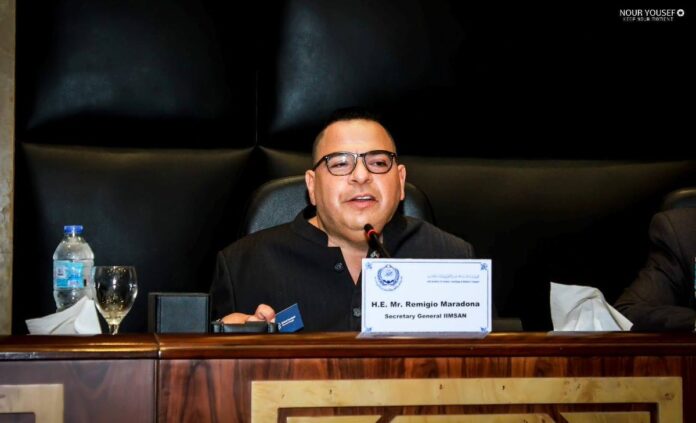 On November 1, 2021, within the framework of the "Global Women Leaders Conference Dubai 2021, in support of the United Nations Sustainable Goal#5: 'Achieve Gender Equality and Empower all Women and Girls." An official ceremony was held by Mil From Mexico and Morocco Alliance Registered with the ministry of the Interior of both countries. Mentes from Mexico, IFCH, and AHCASA, at the Fairmont Jumeriah Dubai, giving the Highest Degree Honorary Doctorate with the "Highest Merits" for his Transcendence of humanitarian efforts in support of the children, youth, and others in fighting child acute malnutrition in the most affected areas of the world."
H.E. Mr. Remigio Martín Maradona from the hands of the Illustrious Dr. HC. Laura Sepúlveda, Ambassador of peace and High Councilor, indirect representation of its Presidents H.E. Dr. Jeanette Tiburcio and H.E. Dr. AzizMountassir. We are proud also to announce that in April 2022, in Queretaro, Mexico. Dr. Maradona will receive the only Sustainability and Innovation Award 2022 Thousand Minds from Mexico to fight internationally against world hunger, particularly in children.
DID YOU KNOW:

AHCASA/IFCH Morocco/Mexico Alliance – Mil Mentes is registered and accredited by the ministry of the Interior of Mexico-Morocco Registration#FNAYDAK43/2018 – FROM THE UNSYSTEM: Treaty of Berna 2105247901627 Quality Control Institution: UNESCO/UNHCR/UNICEF/WFP/ & UNFPA. Approved Association of North America Higher EducationInt'lRegistered. ACTIF/CUAP CERCLE UNIVERSEL DE AMBASSADEURS DE LA PAIX FRANCE/SWITZERLAND.REGISTRATIONS#16PBT0313P/16PSU0152S Assigned by the Suisse Public Education Ministry/Secretariat.