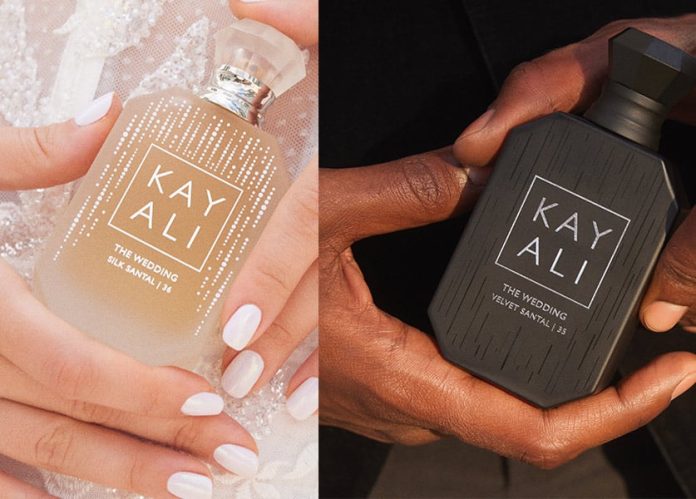 To add a special note to their wedding day, Mona Kattan and husband Hassan Elamin came up with The Wedding Collection; new limited-edition Kayali fragrances designed as an ode to everlasting love.
"Every time I spray "The Wedding" I'm instantly transported to the most special day of my life. I want everyone to experience that feeling – for these fragrances to take you to your most precious memories
celebrating love."
Mona Kattan
"When we created these scents, Mona and I shared more than just our personal taste; we put our energy and feelings inside of these bottles. I think it's going to be something really special," declared Hassan.
Mona and Hassan collaborated with celebrated Firmenich perfumers, Fabrice Pellegrin and Gabriela Chelariu, to work on the creation of The Wedding Collection while planning their nuptials in late 2021.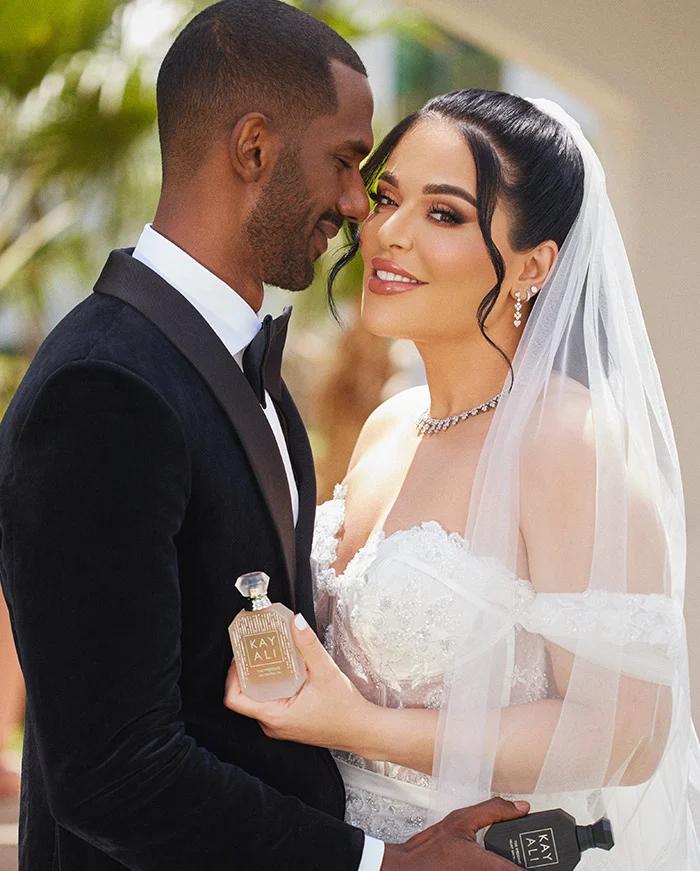 "Working on this project around the wedding of Mona and Hassan was an honor for us. We know how their wedding fragrances had to be special and creative. We loved the concept of the fragrances having to be layerable, as lovers would imprint on each other's skin. Deeply romantic!" shared Chelariu.
Timeless when worn alone yet amplified when layered together, these juices are made to be shared and celebrate love in all its forms. Inspired by the beautiful bond that unites these twin flames and in honor of Hassan's Sudanese heritage, The Wedding Silk Santal | 36 and The Wedding Velvet Santal | 35 are bound by the strength of creamy Sandalwood. Also known as Santal, this hero note grounds each scent while also glorifying the unique blend of decadent ingredients found in each bottle.
"I find sandalwood to be a very comforting yet strong note – a characteristic shared by my husband, Hassan! But what I love even more is that these fragrances symbolize our lives joining together, to create new memories and shared moments," said Mona.
The Wedding Silk Santal | 36
The Vibe: Bright, Uplifting, Elegant
The Wedding Silk Santal | 36, which is also vegan-friendly, surprises with a playful opening of Sparkling Champagne and silky White Freesia, while Pink Praline, Lush Nectarine dominate the heart of this romantic fragrance. The sweetness of Sugared Musk and the creamy Sandalwood perfectly round out this dazzling scent as a toast to joyful celebration.
The Notes:
Top Notes: Sparkling Champagne, White Freesia o Heart Notes: Lush Nectarine, Pink Praline
Base Notes: Sugared Musk, Sandalwood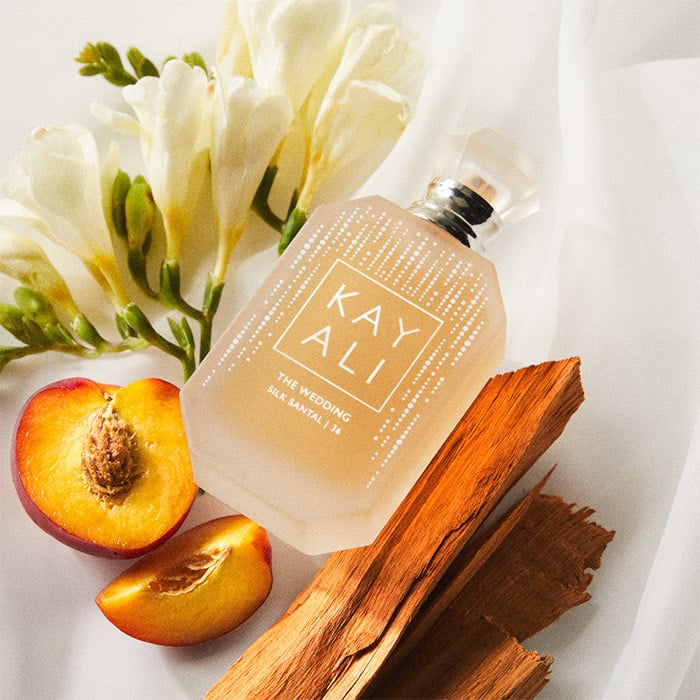 The Wedding Velvet Santal | 35
The Vibe: Warm, Magnetic, Suave
The Wedding Velvet Santal | 35 captivates you with a magnetic blend of gentle Jasmine and White Musk, accompanied by the velvety warmth of Sandalwood, Cedarwood and Benzoin. The creamy and woody base is reminiscent of a lingering embrace, rounding out this sublime scent as a testimony to unconditional love.
The Notes:
Top Notes: Jasmin Petals, Tea Leaves o Heart Notes: White Musk, Cedarwood
Base Notes: Benzoin, Sandalwood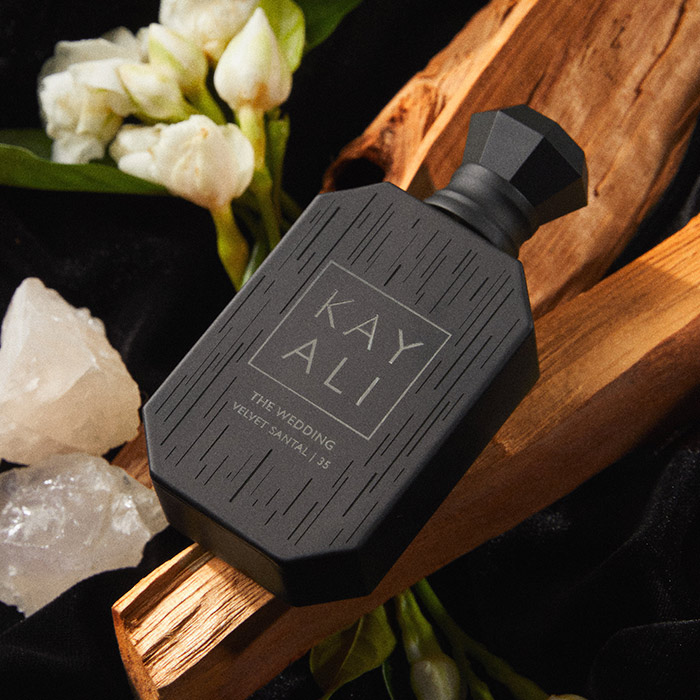 "Fragrance is an intangible outfit. It is just as important as the clothes you wear."
Hassan Elamin
The packaging for KAYALI always reflects the personality of each fragrance, yet The Wedding Collection was also inspired by what Mona and Hassan wore on their wedding day. The textures of their wedding wardrobe became the namesakes of the aptly named fragrances:
Velvet Santal mirrors Hassan's black suit, presented in a completely matte black bottle with a matte black jeweled cap; simple, classic, yet impactful.
Silk Santal is a reflection of Mona's white satin dress, presented in a frosted glass bottle with a delicate design that mimics Mona's sparkling jewelry and the dazzling personality of the fragrance itself.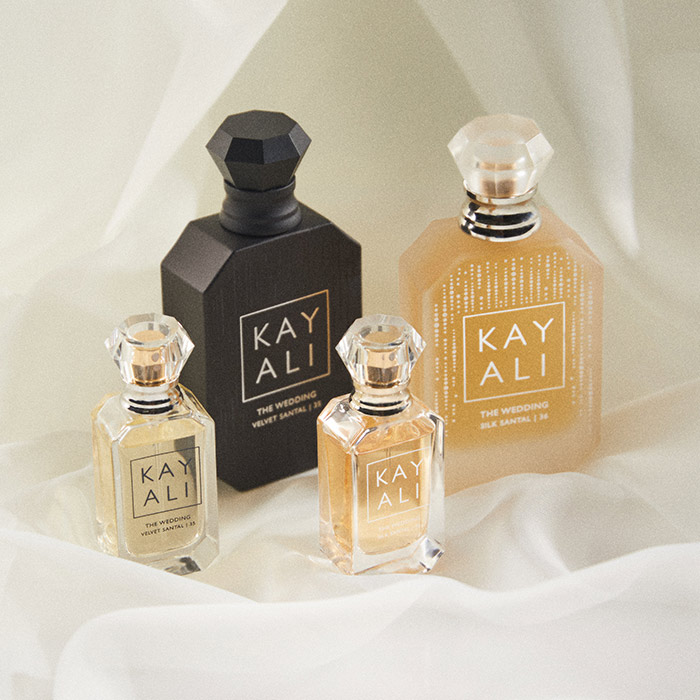 Each number on the bottle indicates the number of modifications each fragrance went through before landing on the perfect formulation.
Made in France and cruelty-free, KAYALI's limited-edition The Wedding Collection fragrances come in 50ml and 10ml Deluxe Miniature sizes and retail for $100 USD (£83 GBP) and $27 USD (£25 GBP) respectively. The fragrances officially launch on June 29, 2023 at the following retailers: hudabeauty.com (Global), sephora.com (US) and in-store at Harrods (UK).