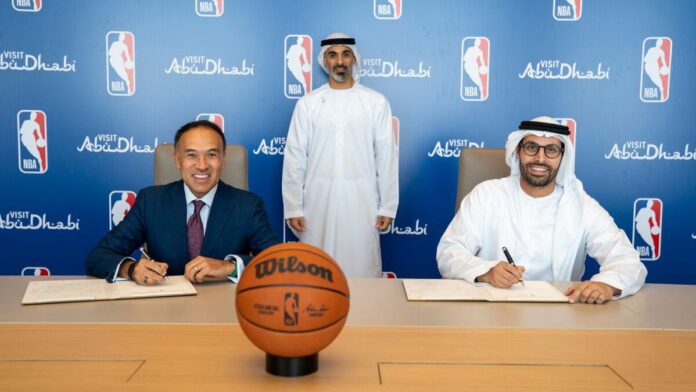 Basketball fans in the UAE can look forward to watching the best players on the planet live in Abu Dhabi after the NBA and the Department of Culture and Tourism — Abu Dhabi announced a multiyear partnership on Tuesday, with two pre-season games scheduled for October 2022.
Those pre-season games will be the first time NBA teams have played in the Gulf region. The participating teams will be announced at a later date.
The partnership was signed by DCT Abu Dhabi chairman Mohamed Khalifa Al Mubarak and NBA deputy commissioner and chief operating officer Mark Tatum, and was witnessed by Sheikh Khaled bin Mohamed bin Zayed, a member of Abu Dhabi Executive Council and chairman of Abu Dhabi Executive Office.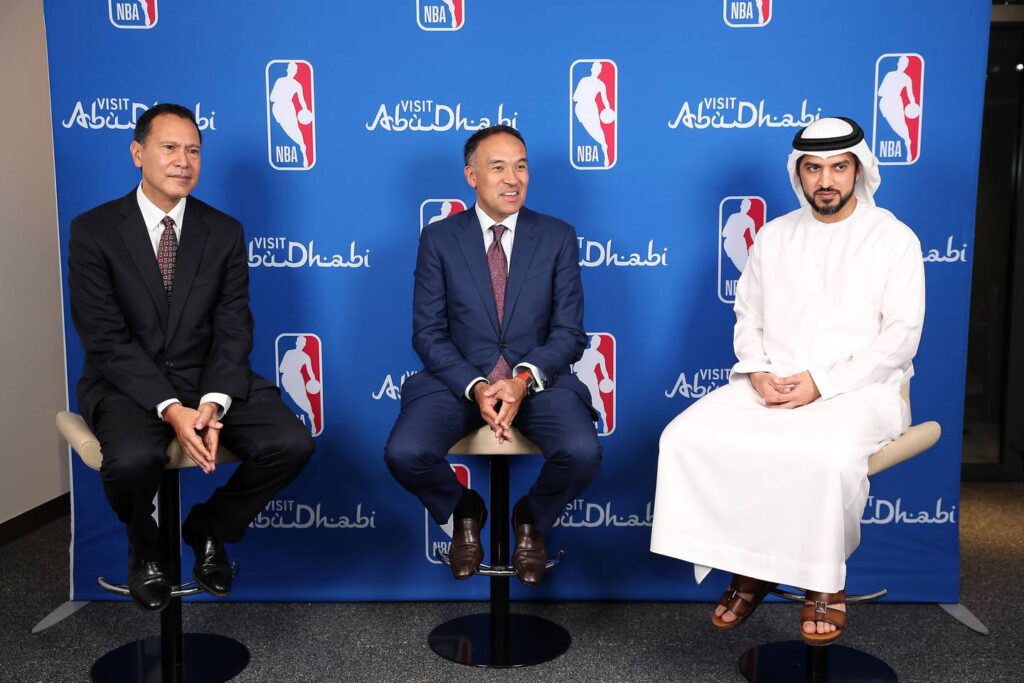 In addition to the pre-season games, the partnership will see the NBA and DCT Abu Dhabi work together to expand basketball in the UAE and across the region. Junior NBA Leagues for boys and girls will be launched at schools and academies throughout the Emirates, while NBA Fit Clinics will encourage and promote health and wellness for citizens and residents.
Basketball fans in the UAE will also get opportunities to meet current and former NBA players through interactive fan events and coaching clinics, and there will be an NBA 2K League exhibition event.
"The appeal for the NBA was we have a big fanbase here, around three million fans in the UAE," Tatum said. "Secondly, when we look to bring our games outside of the United States, we look for world class facilities and Abu Dhabi has those. The Etihad Arena is as nice as any NBA arena I have been to around the world.
"Thirdly, we look for partners that have the experience of hosting world class events and there is no doubt that Abu Dhabi has done that, whether it's Formula One, professional golf and tennis championships, Special Olympics – this place knows how to host and put on world class events, which NBA games are. So those are some of the reasons why we chose Abu Dhabi as the destination."
The deal with the NBA is the latest significant partnership with a major sports organisation for DCT Abu Dhabi and continues the ongoing efforts to transform the capital into a major international sports hub.
The emirate has already become the international home of the UFC, hosts the Formula One season finale, the Etihad Airways Abu Dhabi Grand Prix, and stages the European Tour season opener, the Abu Dhabi HSBC Championship, among many other international sports and entertainment events.
"We're very proud to have this multiyear partnership and that goes beyond that game," said Ali Hassan Al Shaiba, executive director of Tourism and Marketing at DCT Abu Dhabi. "We have shared values with the NBA; values of tolerance, diversity, teamwork – all these things reflect our communities in Abu Dhabi and the UAE.
"Positioning Abu Dhabi as a hub for world class sports events in the region is something that we were looking for and having the NBA as part of our portfolio will definitely add value.
"But it's more about community development, talent development, the whole ecosystem, it's not just about the games. We have common values and we have many things to work on for the future. This is just the beginning."
A key component of that community development will be focused on grassroots basketball and the junior NBA Leagues. Coaches with NBA and top-level junior basketball experience will visit Abu Dhabi to share their expertise, with the ultimate goal of helping identify NBA-worthy talent from the region.
"Once we have all these coaches come to Abu Dhabi to work with different teams here and to bring the culture of the NBA to the region, I believe we will start to see new talents and new fans," Al Shaiba said. "Kids have that dream of reaching the NBA but we need to create that environment for them. It is a process, and it will take time, but we are building the foundations for the next generation."
While still too early to confirm which teams will be participating in the first pre-season games in Abu Dhabi next October, Tatum said there has been a great response from players keen to make the trip to the UAE.
"We've been in conversation with lots of teams and they have raised their hands and said they want to come and play games in Abu Dhabi," he said. "It will be a cooperative process with our partners here to figure out the first two teams, and the two teams after that, but there is no shortage of interest from NBA teams."
The NBA is no stranger to staging games outside of North America, with regular season games held in London, Paris, and Mexico City over the past few years. However, travel logistics mean that for now, only pre-season games will take place in Abu Dhabi.
"We understand the fans would love to see regular season games," Tatum said. "I think we have to deal with the practical issues of having teams travel far distances in the middle of the season. That is a challenge for us. It doesn't mean it can't be overcome."
Additionally, the NBA were keen to stress that their involvement in Abu Dhabi will be year-round and not solely focused on the games, while insisting that pre-season games will be more beneficial to basketball fans in the UAE as players will be more accessible.
"Obviously around the game week, there will be a significant set of activities, we'll have our players out and about in the community in addition to playing the game," said Ralph Rivera, managing director of NBA Europe and Middle East.
"But throughout the year we will have other events where we bring talent and legends over. This is holistic and not just about a game. That is the way we make a sustainable impact in the community."
Tatum added: "The benefit of doing the games here in pre-season is that our players can spend more time here. As Ralph mentioned, in the lead-up to those games they are going to be in the community, working with kids, they are going to be very present and visible.
"With regular season games, it's hard to do that. Because the schedule is so condensed, they have to be in and out, so that was one of the reasons why pre-season is beneficial."