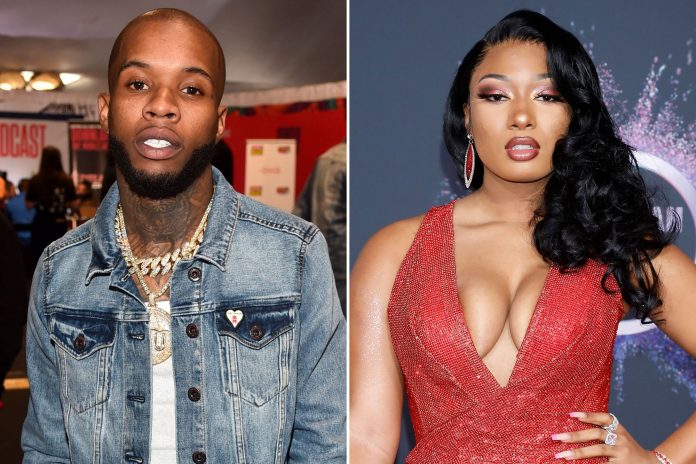 Megan Thee Stallion is done covering for Tory Lanez. The "Savage" rapper revealed on Instagram Live last night that Lanez was in fact the one who shot her during the incident that led to his arrest for carrying a concealed weapon on July 12.
Just before hopping on IG Live, Meg took to Twitter to offer one final warning. "Lie one more time and ima quit sparing you," she said.
Without any further delay, she then began explaining what took place on the night of July 12.
"Y'all hoes so worried 'bout it. Yes, this n**** Tory shot me," Megan confirmed. "You shot me. And you got your publicist and your people going to these blogs lying and shit. Stop lying. Why lie? I don't understand. I tried to keep the situation off the internet, but you dragging it. You really fuckin' dragging it. Muthafuckas talkin' 'bout I hit this n****. I never hit you. Muthafuckas was like, 'Oh she mad 'cause he was tryna fuck with Kylie.' No I wasn't. You dry shot me."
It wasn't just Megan and Tory riding together on the night of the incident. She disclosed that there were two others in the car.
"Everybody in the car…it's only four muthafuckas in the car. Me, you, my homegirl and yo security," she continued. "Everybody in the car arguing. I'm in the front seat, this n**** in the backseat. I get out the car, I'm done arguing. I don't wanna argue no more. I get out. I'm walking away. This n****, from out the backseat of the car, start shooting me. You shot me. I ain't get cut by no glass."

You can watch the entire IG Live session below.