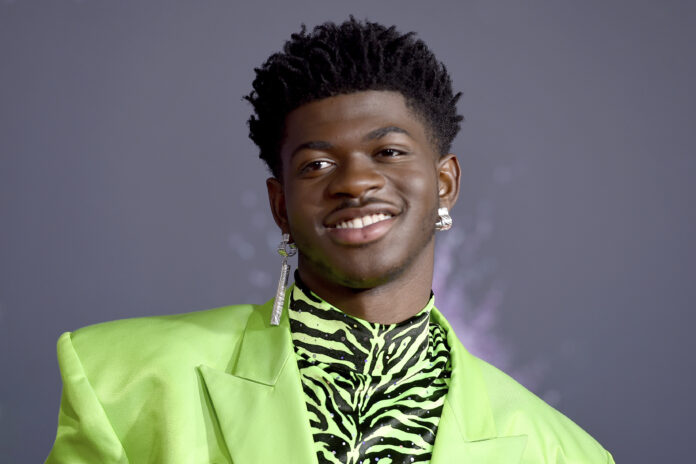 Lil Nas X just keeps getting bigger and better. The trailblazing artist is now the most-streamed male rapper on Spotify with 52,318,623 monthly listeners.
With Lil Nas X's highly anticipated album Montero coming soon, the artist has already released a couple of songs and accompanying music videos that have garnered waves of acclaim. The most recent is his track "Industry Baby," which features Jack Harlow and was produced by Kanye West. The song debuted at No. 1 on the Billboard Hot R&B/Hip-Hop Songs Chart and peaked at No. 2 on the Billboard Hot 100 Chart. This week, the triumphant song surpassed 100 million streams on Spotify. Adding on to the song's success is the breaking out of prison-inspired music video, which has amassed over 73 million views on YouTube in just two weeks.
A few months back, Lil Nas X released the breakout anthem for this upcoming album "Montero (Call Me By Your Name)," which became his second No.1 hit on the Billboard Hot 100 Chart. The song and highly visual music video are ultimately about having the courage to love oneself. As the song includes Lil Nas X's first name, it was created in dedication to his younger self who was not out at the time.
For the past two years since his debut, Lil Nas X has been on a hot streak. To date, his breakout song "Old Town Road" featuring Billy Ray Cyrus is still the longest-leading No. 1 single on the Billboard Hot 100 Chart. The song made history by spending an impressive 19 weeks at the top. The song's official music video is currently approaching 800 million views on YouTube, so it would come as no surprise if the rapper becomes a part of the one billion views club in the near future. Check out the video again to see where it all started for the influential star.