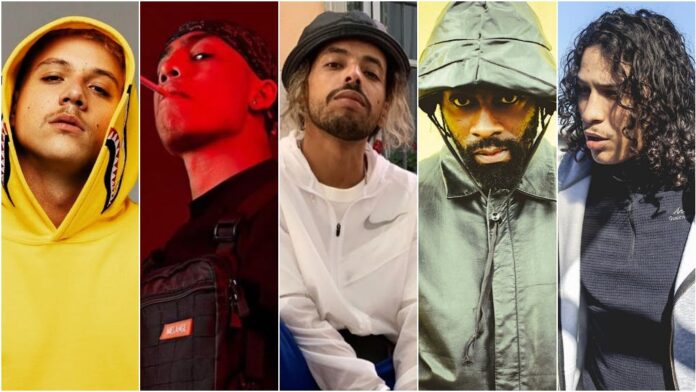 The recorded music market in France generated €781 million (approximately $883m) in 2020, representing annual growth – albeit very small annual growth – of just 0.1% in the pandemic year.
The results, which include total revenues for physical and digital sales, neighboring rights and sync, were published this week by French trade body SNEP.
According to SNEP, physical and digital sales combined (omitting neighboring rights and sync) increased by 4% to €658m ($744m).
That saw this physical/digital figure return to its 2008 level, but it still only represented 46% of 2002's peak sales figures in the world's fifth largest music market.
Digging deeper into France's 2020 revenue figures reveals that overall physical sales declined 20% from €230m ($258m) in 2019 to €184m ($208m) last year, which saw saw record retailers shuttered due to the pandemic.
Neighboring rights revenues also fell, by 19% from €124m ($139m) in 2019 to €101m ($114m) last year, while Sync revenues saw a 10% drop from €24m ($27m) in 2019 to €22m ($25m) last year.
In brighter news, music streaming generated revenues of €453m ($511.89m) in France in 2020, representing annual growth of 20.6% year-over-year.
Music streaming accounted for 69% of France's total sales revenues in 2020, and 96% of all digital revenues.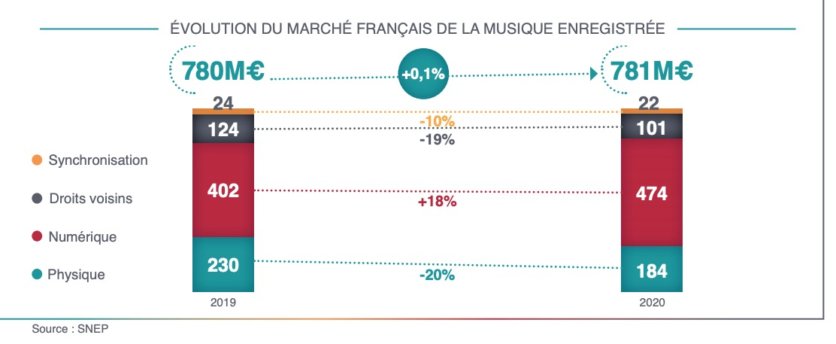 Paid subscriptions to music streaming services in particular were a major growth driver in France last year.
There were 8.7m paid subscriptions in the country in 2020, up from 7.2m in 2019 and 5.5m in 2018.
Up by 23% year-over-year, those paid subscriptions accounted for 78% of overall streaming revenues.
According to SNEP,  30% of the French population, or 20m people, now use audio streaming, up 33% versus 2019.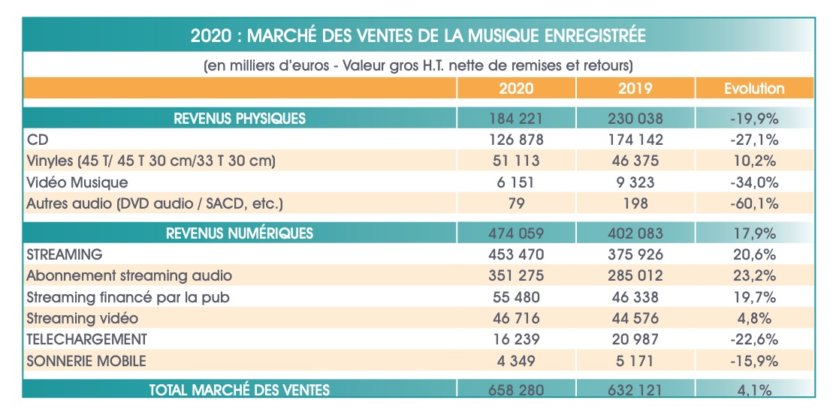 Elsewhere, the volume of vinyl records sold and revenues generated by those sales has quadrupled in France since 2015.
Around 4.5m vinyl records were sold last year, generating revenues of €51.1m.
Last year (and for the third consecutive year), 19 of the country's Top 20 albums were produced in France and performed in French.
French rap and urban music, meanwhile, made up half of the country's Top 200 albums in 2020.
Vitaa and Slimane's Versus was the biggest album across all formats in France last year, according to SNEP data.