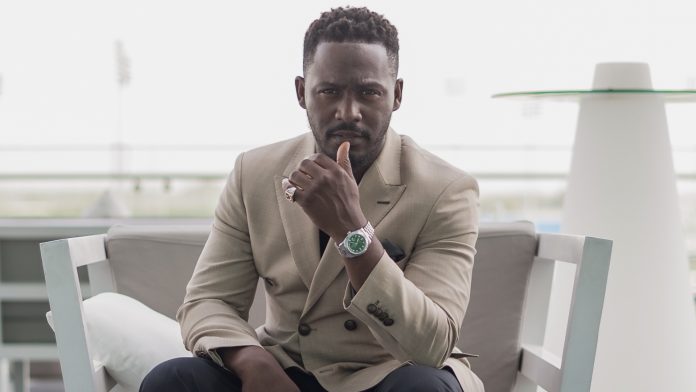 Fred Frenchy also known as Frédéric Madzimba is a hardcore entrepreneur and the king of international booking agent. You basically want someone, he can get the deal done. The man of many talents is involved in different ventures such as producing the podcast shows Hotboxin with Mike Tyson and Private Talk With Alexis Texas, CEO of Mike Tyson Academy, Black
Excellence Store which is his own street-wear label and celebrity booking agent for The Game, Mike Tyson, Blueface and many more.
Fred also mentioned he is currently writing and working on a TV Show which is called Middle Man. It's still under process. The story is about Fred's life as a booking agent.
Introduce Yourself?
I'm Fred Frenchy originally from France and was born and raised in France. My parents are originally from Congo and from 9 to 13 lived in Congo and had to leave Congo to go to France because of the war. So from here I had to move back and I started my career in France.
My current business is international touring and booking agent and I also manage 2 different celebrity artists.
Since you manage celebrity artists how did you step your foot into the entertainment industry?
Originally I come from the music industry, I've always been involved in music since I was young. In 2002 I packed my bag and decided to go to LA and that's where I did my internship at Universal Music Group and Interscope. They really liked my hustle and gave me a position as Urban Promotion & International Promotion. That was the time I built myself and made most of my connections.
In the music industry. It was a great experience and getting a chance to connect with the best artists such as 50 cent, PussyCat Dolls, Mary J Blige and more. Coming down in 2008 when the economic crisis hit America my, one of my heads from the International promotions advised me to go to Europe and start my own company.
Not only with the advice, but they also promised me that they would help me get any artists that I wanted in Europe and hence I was really blessed
to have good relationships with them. From then on-wards I quickly became the most wanted touring and booking agent in Europe.
You've built such strong relationships and considered the guru and one of the most prestigious touring and booking artists. What tips would you give to become a game changer in the industry?
Always maintain good relationships and respect with artists and promoters. Everyone matters because the person next to you could be your source of connection.
Be as professional as possible.
Keep your Integrity.
Remain Authentic and try not to over do it
Apart from being an International touring and booking agent you also mentioned that you're involved in different ventures and of them is the Mike Tyson Academy. Tell us more about it?
My encounter with Mike is a very uncommon story. I think it happened in 2008 and I have known him for 11 years now. I was fresh out of the US and I was killing it in Europe as far as touring and booking for games like Game, Pussycat Dolls and various artists. "Mike was having a really tough time as he was in an out of rehab, bankrupt and was looking from different ways to make money". In February or March I received a call from Mike's friend Jimmy trying to help Mike saying "you're the only person who can help me, I have an issue in Italy, I have one of my clients whose in Italy and the promoter was supposed to pay him and instead he just vanished". Long story short that client was Mike Tyson.
Fast Forward to 2015 we were doing a show in Monte Carlo and I was at the gym. I just looked around and thought it would be dope to have like a "Mike Tyson Academy" all around the world. I spoke to Mike and his family, they loved the idea and gave me the green light.
So you've started a podcast with Mike Tyson called 'hotboxin' with Mike tyson'?
Tyson has his company in America which is called the Tyson Ranch which is into cannabis. With his company he developed a media company where he does tv shows, cartoons etc. He was doing a podcast before but this one was a different formula. We wanted to show firstly how Mike has changed as a person. This idea of the podcast was to show people that you can better yourself and change yourself. The result was so amazing that we decided to make it a full time show. The basic idea of the show is Mike Tyson smoking and interviewing his guests.
Other than Mike Tyson, you are working with Alexis Texas and producing another podcast with her called "Private Talk"?
Yes, I'm working with Alexis Texas on the new podcast called "Private Talk". Alexis Texas is a former adult movie star that I manage now. We've been good friends for a while now but this year I finally decided to work with her. Right now I'm rebranding her by creating this podcast. The podcast is a very open and entertaining format with Alexis about life in general.
You have a project called Alt-ed  which is a initiative you've started, tell us  more about Alt-ed and why you started this project 
"So Alt-ed is an education program that I created that will basically help minorities especially black and hispanic people willing to work in the entertainment industry" so how it works is, Alt-ed is a  sonic education technology company which has been established to produce the education curricular in the form of audio driven mentor sessions with influential black, hispanic and other diverse talent. Alt-ed is a mission- driven, Edtech company with equal parts technology and  media DNA. As minorities face disproportionate barriers to attain knowledge required to accelerate their careers and succeed in business.
Our goal is to get more black, hispanic and other students from diverse backgrounds armed with the practical knowledge, actionable insights  and inspiration they need to unlock their potential, succeed in business and advance their careers.
We're doing this by producing and monetizing impactful, culturally-relevant curriculum in the area of "entertainment as education" which we like to call "Edutainment". This is in collaboration with highly influential VIPs and industry leaders who are recognized leaders in their fields and achieved major respect in their craft.
Lastly, what does a successful entrepreneur mean to you?
A successful entrepreneur to me is someone who is not afraid to take risks and has a strong inner drive to succeed and overcome obstacles
He should always be on the lookout for new innovations and ideas in order to emerge as a winner. He should constantly reinvent himself and think of better ways to run a business and improvise on the products and services offered by them.