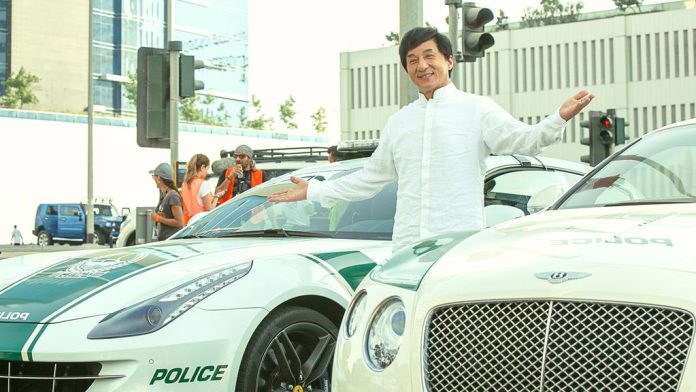 He's here to shoot his second Dubai-based movie 'Vanguard'…
Action movie legend and all-round megastar, Jackie Chan, has arrived in the UAE – and he's already begun filming his second movie in Dubai. He was last in the country for filming three years ago, when he shot Kung Fu Yoga, directed by Stanley Tong who is also directing his latest movie, Vanguard.
Legend & superstar martial artist Jackie Chan expresses his admiration for the model of digital policing that he witnessed at Smart Police Station (SPS) in La Mer & Dubai Police's high-tech Supercar, Ghiath. Accompanied by Mr. Saeed Al Janahi, director of operations at @FilmDubai pic.twitter.com/Oqmjaf0zvo

— Dubai Policeشرطة دبي (@DubaiPoliceHQ) March 17, 2019
Chan has been busy since his arrival, producing scenes of the Dubai part of the movie, and also finding time to explore the Dubai Smart Police Station.
Filming for the movie will finish on March 22, so while it doesn't appear he'll be here for long, we're looking forward to seeing what else he gets up to while he's here.
Behind the scenes of Jackie Chan's new movie Vanguard being filmed in #Dubai. @FilmDubai pic.twitter.com/7E4Zrmy7XZ

— Dubai Media Office (@DXBMediaOffice) March 18, 2019
He's the latest in a string of stars making the UAE one of their key shoot locations, following on from Pierce Brosnan, who was here to shoot The Misfits earlier this year, and Ryan Reynolds, who spent time in the Abu Dhabi desert alongside the rest of the 6 Underground crew.